La vita più intensa della forma,
la strada più forte dell'accademia.
Life more intense than appearance, the street stronger than the academy.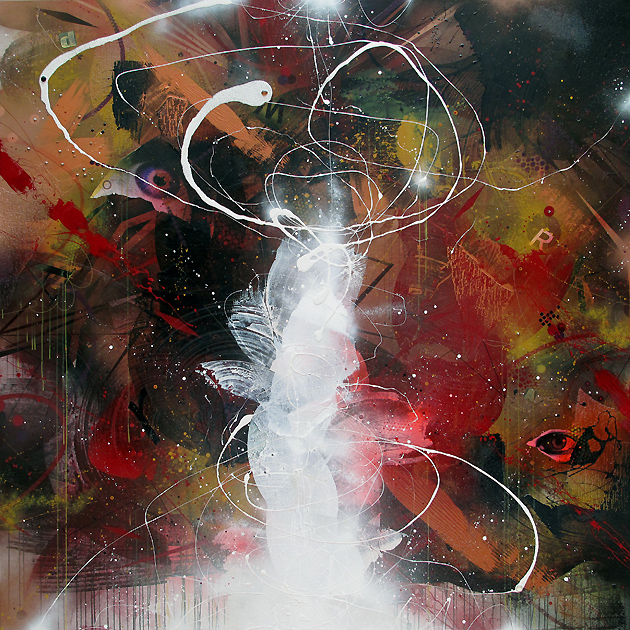 Reattore Quattro - cm 200 X 200, mista su tela / mix media on canvas, 2011
Esposto su invito ufficiale di partecipazione alla 54ª Biennale di Venezia, Padiglione Lombardia
Exhibit an official invitation in the 54th Biennale of Venice, Lombardy Hall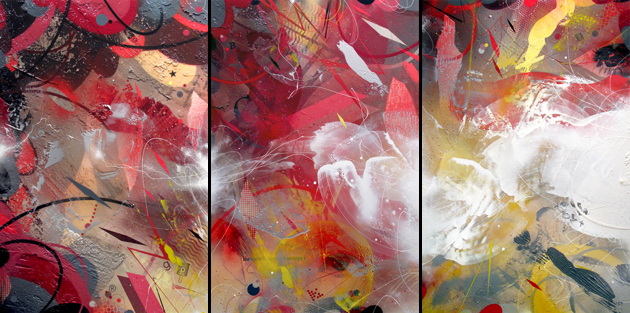 Big Bang - cm 150 X 300 (trittico), mista su tela / mix media on canvas (triptych), 2013
Esposto su invito ufficiale di partecipazione alla 55ª Biennale di Venezia all'evento Back 2 back to Biennale
Exhibit an official invitation in the 55th Biennale of Venice, Back 2 back to Biennale

L'opera di KayOne è caratterizzata da accostamenti di colore piacevoli e audaci, caos energetico di linee, forme che richiamano le arterie urbane, il respiro della città e dell'arte che la colora, su tela ritrova una forma più gestuale e istintiva del dipingere. Non deve stupire l'abilità di KayOne di coniugare la suggestione della strada alle avanguardie e ai movimenti più innovativi del Novecento, dal momento che proprio questi gruppi di sperimentatori si erano posti per primi il problema di far confluire, anche in modo diretto, la vita nell'arte. Senza abbandonare quell'impatto visivo classico del writing, che su muro esprime tutta la sua forza con colori e dimensioni, nei suoi lavori mantiene quell'impatto del colore e della materia, realizzando con la gestualità della pennellata e dello spray scritte, lettere ed esplosioni di colore, simili a scosse di energia provenienti da un Big Bang dell'universo stradale. Realizzando opere polimateriche con colori intensi e cromatismi capaci di dare vita ad armonie di colori dall'equilibrio perfetto, che evidenziano un talento artistico capace di trasportare su tela l'emozioni della strada, il sapore del vissuto e dei muri di periferia. La forza dei quadri di KayOne sta proprio nella capacità di attirare chi guarda in un universo di sensazioni, emozioni, significati, la cui energia dirompente evoca la strada senza bisogno di rappresentarla. Lavori istintivi che trasmettono un percorso di 25 anni di writing e che grazie alle sue opere KayOne, trasporta su altre superfici con la stessa forza ed energia.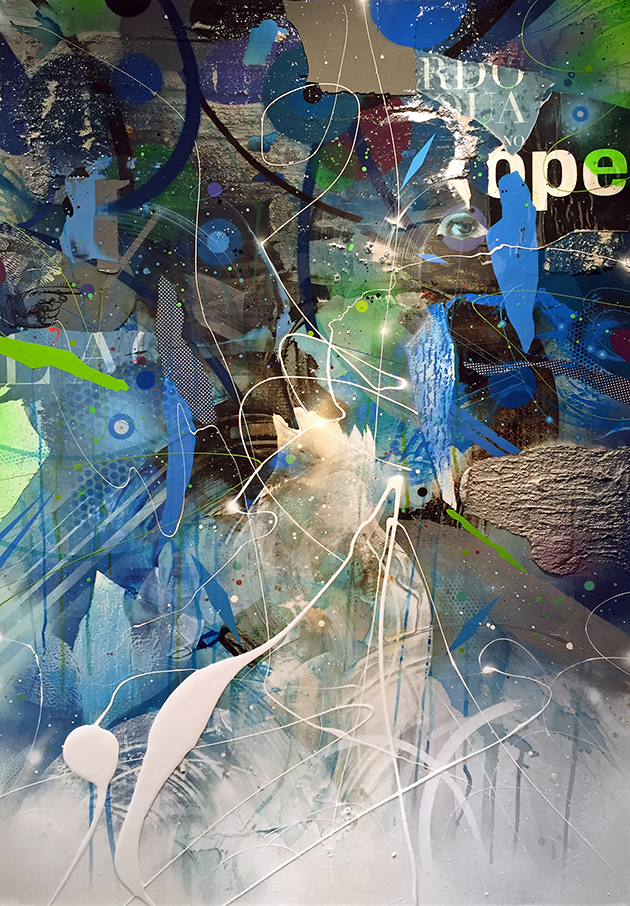 Hope - cm 190 x 130, mix media on canvas, 2016 (private collection)



A workof KayOne is characterized by a combination of bold and pleasant colors, an energetic chaos made out of lines, shapes that recall urban arteries, the breath of the city and of the art that colors it. On canvas he rediscovers a kind of more instinctive and gestural way of painting. There's no need of being amazed by KayOne's ability to combine the awesomeness of the streets with the avant-garde and with the most innovative movement of the nineteenth century as these groups of experimenters were the very first to face the issue of letting life flow into art also in a very direct way. Without abandoning the classical visual Writing impact, which expresses all its power on the wall through colors and dimensions, in his works of art he maintains the impact of color and media thus creating through the stroke of brushes and sprays, writings, letters and color explosions similar to energy shocks caused by a Big Bang of the "Street Universe". By creating works of art with mixed media and intense colors and a chromatism capable of giving life to perfectly balanced combinations of colors which highlight an artistic talent able to transpose on canvas the emotions of the street, the flavour of real life and of suburban walls. The strength of KayOne's canvases lies in the ability of attracting the viewer towards a universe of sensations, emotions, meanings, the disruptive energy of which recalls the street without the need of representing it. Instinctive works that convey a 25 year long path in Writing which KayOne transfers on other surfaces with the same energy thanks to his works of art.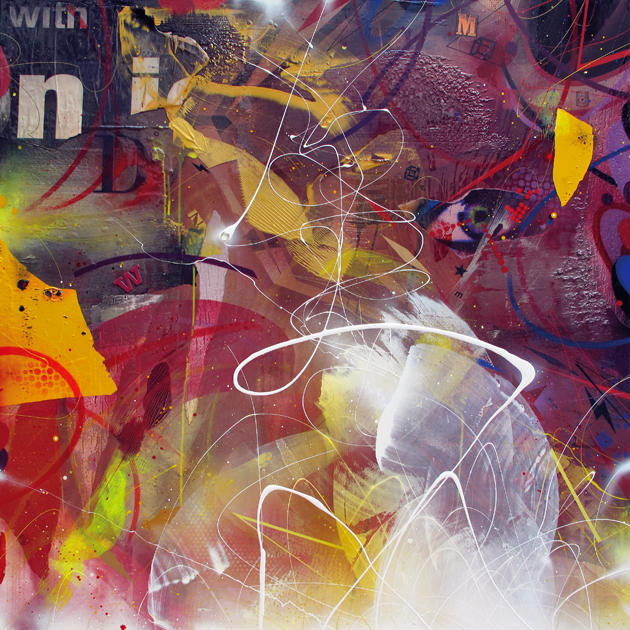 Angelz with attitude - cm 150 x 150, mix media on canvas, 2014 (private collection)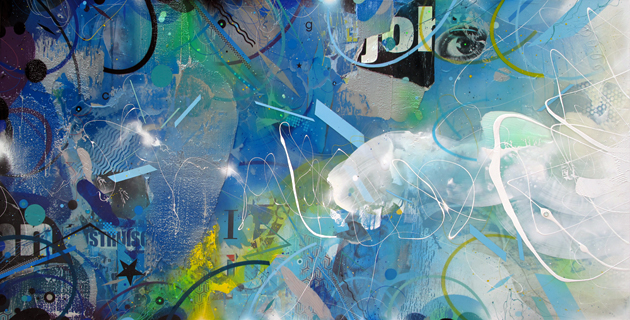 Fluxus - cm 150 x 300, mix media on canvas, 2014 (private collection)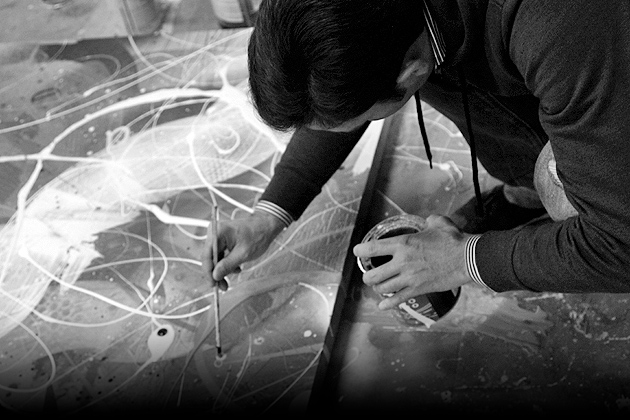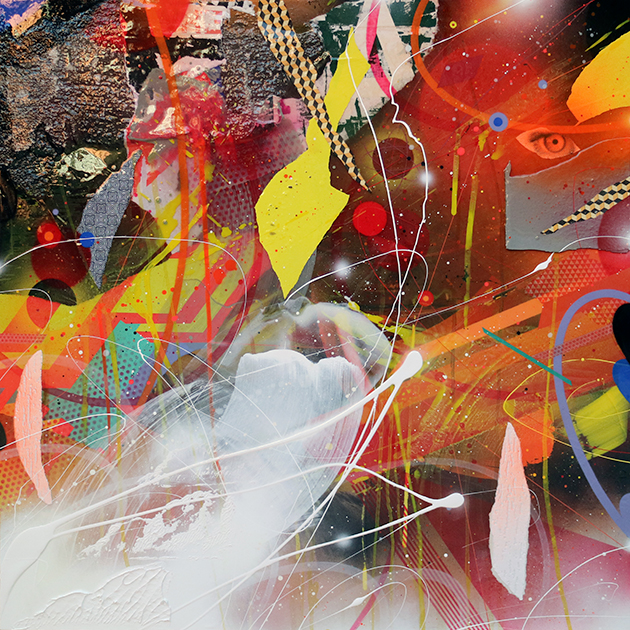 Electro Cube - cm 100 x 100, mix media on canvas, 2016 (private collection)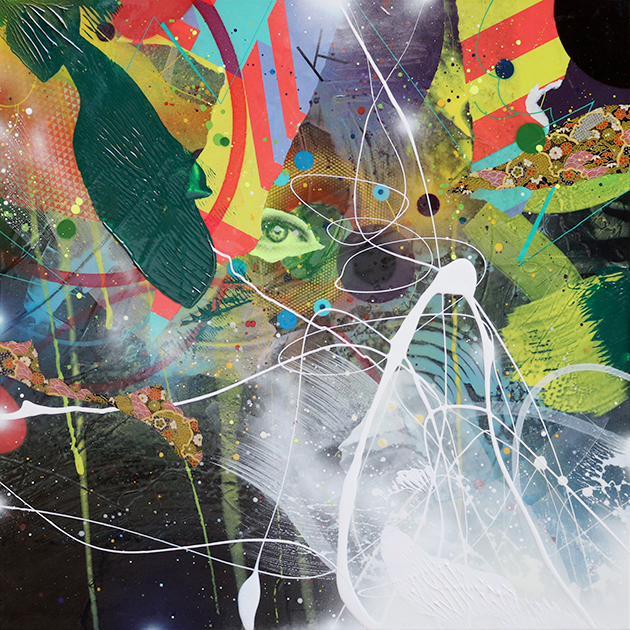 Mondo Diverso - cm 100 x 100, mix media on canvas, 2017 (private collection)